About Shivani:
shivanii__patel is a well-known Instagram fashion model from Rajkot, Gujarat. Shivani has very good knowledge regarding trending fashion.
She makes amazing reels on her Instagram account. She puts a lot of effort into making fashion reels for her audience. She's so gorgeous and pretty as a fashion model in Gujarat. She is a beauty and fashion reel creator.
Her full name is Shivani Patel. People close to her call her Shiva. She was born on February 26th, 1998 in Rajkot, Gujarat. She is bright and intelligent and has completed her 12th and fashion designing course.
She's fair, young, tall, and beautiful. She makes a living as a social media fashion influencer. She's an animal lover, she likes to play with dogs more.
Shivani likes to dance and travel. She has explored Goa, Manali, Bangkok, and many more travelling places. Now that Bali and Europe are on her travel bucket list.
Shivani Patel (shivanii__patel) has more than 58 thousand Instagram followers with around 432 posts. Some of her fashion reels have crossed lakhs of views on Instagram.
Her fans are always willing to meet their good looking reel creator as she is so friendly with them and good natured.
She is very inspired by Bollywood actress Priyanka Chopra. Shivani is also a self-made fashion model.
Shivani has maintained a good relationship with her family. She lives with her family. Her family is also supportive of her fashion modelling career.
Shivani is in a relationship with a famous Instagram funny video creator, rkbapuofficial.
Shivani loves to dance. She's also a garba lover. Her favourite festival is Navratri.
shivanii__patel has a very clear vision for her fashion career. She's young and achieving her goals. She wants to represent herself and her country in the global fashion world.
Her favourite sports are volleyball and badminton.
As a fashion model, she's very selective about her clothing brands. Her favourite clothing brands are H & M and Forever 21.
Her favourite sports are volleyball and badminton.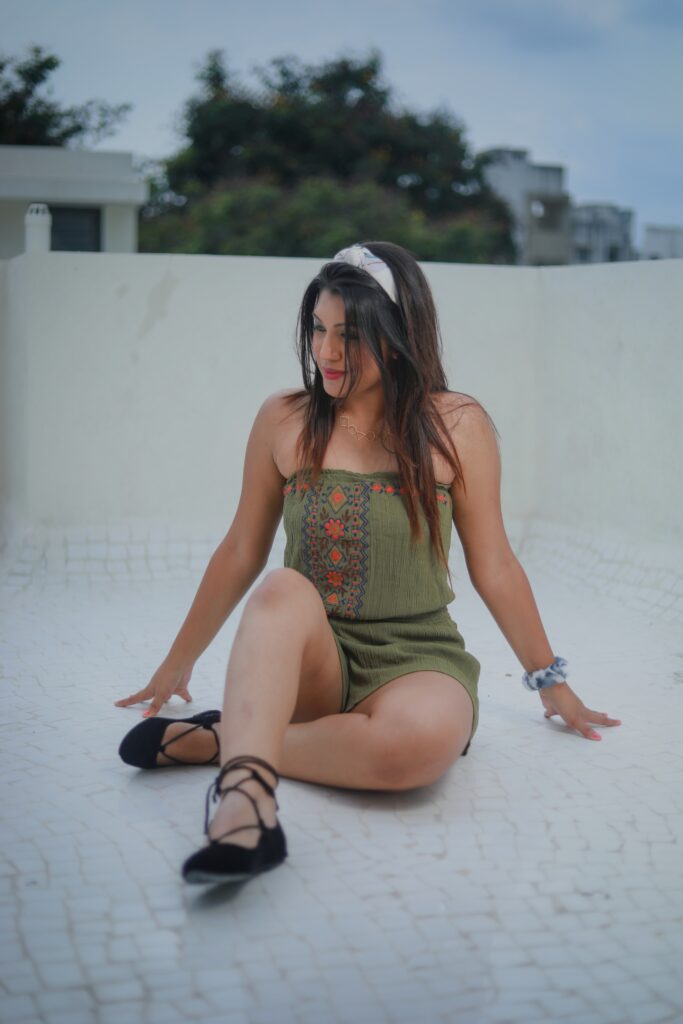 | | |
| --- | --- |
| Full name: | Shivani Patel |
| Nick name: | Shiva |
| Date of birth: | 26th February 1998 |
| Age: | 23 |
| Height: | 5'3 |
| Weight: | 58kg |
| Skin Color: | Fair |
| Home town: | Rajkot |
| Birth place: | Rajkot |
| Religion: | Hindu |
| Cast: | Patel |
| Nationality: | Indian |
| Educational Qualification: | 12th Pass and Fashion designing |
| Profession: | Fashion influencer |
| Relationship status: | In a relationship with Rkbapuofficial |
What Shivani Patel likes:
| | |
| --- | --- |
| Hobbies: | Dancing, Travelling, Playing with dogs |
| Favorite Food: | South Indian / Kathiyawadi food |
| Favourite Place: | Bali, Europe |
| Favourite Colours: | Purple and Neon |
| Favourite Sports: | Volleyball and Badminton |
| Favourite Clothing brands: | H & M and Forever 21 |
Net worth details of Shivani Patel
| | |
| --- | --- |
| Estimated net worth in 2020: | $430 (approx.) |
| Estimated Year's Net Worth (2021): | $562 (approx.) |
| Annual Salary: | Under Consideration |
| Income Source: | Instagram |
Shivani Patel's social media account:
Interesting facts about Shivani Patel:
The well-known fashion influencer, shivanii__patel has a strong bond with her family.
She looks mesmerising with her silky hair. She has lovely eyes.
Her smile is so beautiful that everyone should see it once.
She has an adorable and classy personality. Shivani always comes up with the most amazing outfits.
Shivani has maintained her figure in a really good manner. She goes to the gym daily and follows a very strict diet. She's very health-conscious.
Shivani plays badminton or volleyball in her free time. Sports also play an important role in maintaining her health.
She is obsessed with H & M and Forever 21 clothing brands. She has a very good collection of these clothes.
She loves eating south Indian food on weekends, like dosa, idli, mendu vada, and uttapam.
She loves travelling and has explored Goa, Manali, and Bangkok.
Shivani's celebrity crush is Varun Sood.
She likes watching cricket and is a fan of the world's best male cricketer, Virat Kohli.
Shivani hasn't revealed much about her personal life yet, but whenever she shares any news, we will update you soon.
Frequently asked questions:-
Who is the popular Instagram fashion influencer from Rajkot, Gujarat?
Shivani Patel, also known as shivanii__patel is a well-known and popular fashion model from Ahmedabad.
No, Shivani has no bad habits like smoking or drinking.
What kind of videos does she make for her Instagram audience?
She makes beauty and fashion-related reels and sometimes funny reels too with rkbapuofficial.
She has completed her 12th and fashion designing course.
Conclusion:
Fly Digitals is the leading digital marketing company in India that provides the most convincing marketing platform for product marketing.